Meredith Byrne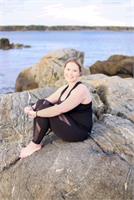 Meredith "Meri" Byrne began practicing yoga in 2012 and launched a steady practice shortly thereafter. She was drawn to yoga for its healing properties and fell in love with the supportive community. Meri primarily practices Vinyasa and Ashtanga, but loves exploring all aspects of yoga and yogic living. To deepen her knowledge and personal practice, Meri obtained her RYT®200 certification through Barre & Soul in Portsmouth, NH and is Yoga Alliance certified. Meri enjoys experiencing the connection of mind, body and spirit in her practice and loves spreading the positive message of yoga throughout her life. Meri has an MBA and has worked in financial services for ten years. When she is not on her mat or in her office, she enjoys traveling, live music, walking on the beach, visiting art museums and spending time with her family, friends and pets.
Meredith Byrne instructs the following:
This class focuses on moving through a progression of postures that offer modifications (basic to advanced) for all levels of strength and flexibility. We will practice sun salutations, breathing practices, and basic postures. Students are encouraged to challenge themselves and work to their appropriate level of ability.