Emma Adele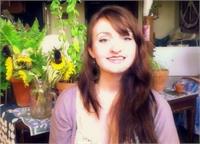 Emma Adele discovered the magic and freedom of Yoga practice at Newmarket Mills Yoga in 2014. She chose to deepen her knowledge and understanding through the Happy Love YTT 200 hr after experiencing the healing benefits and mental clarity attained through continued practice and connection between breath and movement. Emma is a Licensed Massage Therapist, practices Reiki and Qi Gong, and is Yoga Alliance certified. She often integrates energy awareness into her classes, as well as music (one of her greatest loves), chanting, singing bowls, and light touch massage. Her goal as a teacher is to encourage students to listen to their bodies. Her focus is to help create space to exist in experience without judgement, to encourage the release of what is no longer needed, and to begin to cultivate a feeling of calmness and inner strength by filling the space created with healing, nurturing energy.
Emma Adele instructs the following:
This class is accessible to all levels and is a wonderful opportunity to be introduced to the Foundations of Vinyasa flow yoga. You will be led through a practices intended to stretch, build strength and improve concentration and mindfulness. The teacher will share yogic philosophy/principles, and will share her practice of Reiki and her training in massage therapy to the class, offering a unique blend of healing therapies to your practice.