Kimberly Buchwald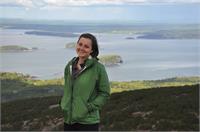 Kim Buchwald began practicing yoga in 2012 while in college. She initially fell in love with yoga for its physical benefits but quickly began to experience it's mental benefits as well, finding through the practice, relief from anxiety. To deepen her practice, Kim received her 200 RYT through 3 Bridges Yoga and has been teaching private and community classes along the seacoast. She teaches primarily vinyasa classes designed to balance physical effort with ease. Kim is also an elementary school teacher and enjoys bringing mindfulness into the classroom for her students.
Kimberly Buchwald instructs the following:
This class focuses on moving through a progression of postures that offer modifications (basic to advanced) for all levels of strength and flexibility. We will practice sun salutations, breathing practices, and basic postures. Students are encouraged to challenge themselves and work to their appropriate level of ability.