Amanda Stanley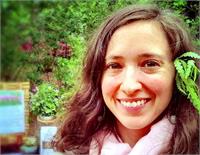 Amanda Stanley CHP, CRMT, RYT 500 has been practicing yoga for over 14 years. Having graduated from both 200hr and 300hr yoga teacher training's from Erin Ehler's of Yoga on the Hill, Kittery, ME, Amanda sees yoga as an vital and integral part of a happy, healthy & empowered life. Her teaching style is focused on proper alignment with the support of props, longer holds in postures, subtle but powerful movements and concentrated breath work. Amanda also weaves the wonders of yoga into her private practice; Jupiter's Labyrinth, where it's combined with Ayurvedic practices, herbal support and Reiki, offering a broad spectrum of whole health and wellness for her clients & students. Amanda is a Taurus sun sign and a lover of all things food, nature and comfort. When she's not on her yoga mat or in her office you'll find her outside in the woods looking for wild plants, in her own gardens planting, at White Heron Tea sipping on Kashmiri chai with her husband or binge watching Netflix at home with her cat.
Amanda Stanley instructs the following:
This yoga class is a step up from our Beginner yoga classes. More challenging postures, including an introduction to slow, supported, gentle inversions, pranayama (focused breath-work), & even longer holds and repetition, are what sets this class apart from our Beginner Yoga. This class is perfect for anyone who has at least 1 year of consistent experience of yoga asana.




This all levels class is designed to move deeply into specific muscle groups to release tension, stress & stagnant energy in the body while also nourishing & balancing the nervous system & quieting the mind.
Each class will begin using Yoga Tune Up Balls, some prop supported, gently active & passive yoga postures, guided breath work and will then finish with a restorative pose ( supported variations of savasana held for 10-20 minutes). All students are welcome so long as they can sustain a quiet, resting pose with eyes comfortably shut for an extended time.




This is a perfect class for those who are completely new to yoga, those who have less than 1 year experience , or any yogi who'd like to strengthen their fundamental practice further.
This class focuses around strength, mobility, balance, precision & repetition. Rather than flowing in and out of each pose quickly, each asana (posture) is held for an extended period of time. By drawing attention to the detail in subtle body movements, form & alignment, we are able to quiet the mind, tune into our body & practice intentional breath more deeply. Yoga props are used extensively in every class. This enables adult students of all ages & limitations to practice their best pose correctly, while also minimizing strain and injury.




Mixed Levels is for anyone who would like to come and practice at whatever level you prefer. This class is taught in the classical tradition. The teacher can make modifications for newcomers and for more advanced students. All are welcome, although it is recommended that true beginners take the Beginner's 4 session series for a solid foundation in the terminology and poses.