Zeke Zubrow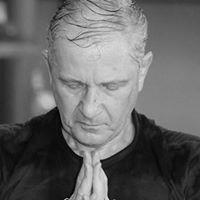 Ed "Zeke" Zubrow received his 200 hour RYT through Yoga Alliance in 2015 under Dana Lincoln at Prasada Yoga Center in North Hampton, NH. A former college football coach, he views yoga as a discipline to reduce self-limiting, self-defeating thoughts, and to help us find our truest, best self. Using the physical practice of asanas (forms) we develop strength, flexibility and, most important, the ability to breath effectively and calm the mind. Zeke's intention is for practice to become a moving meditation, with the yoga mat a haven and place to explore. Zeke is interested in the ways that exploring all aspects of yoga can extend beyond the mat and influence our daily lives and community.
Zeke Zubrow instructs the following:
Classes focus on moving through a progression of postures that offer modifications (basic to advanced) for all levels of strength and flexibility. Some experience with sun salutations, breathing practices, and basic postures is suggested. Students are encouraged to challenge themselves and work to their appropriate level of ability.




If you are looking to get your breath moving, lengthen tight muscles, and get a sweat going, then this class is for you! We will safely explore basic postures, their form and alignment, and flow through a dynamic sequence that will open and release tight muscles, move energy through the body, and create clarity in the mind. This class is great for runners, cyclists, golfers, or anyone looking to increase flexibility and strength. If you don't consider yourself an "athlete" don't be shy! You absolutely do not need to be athletic to practice dynamic yoga. See you on the mat!




Join Zeke for a very special New year's Day class to set intention for the 2018 New Year and experience self care at the end of the busy holiday season! Zeke will lead you in a basic vinyasa class and then transition into a Yoga Nidra experience of extended savasana. This class will set a beautiful tone for your first practice of the year. Donations to SATYA will be welcomed; the class is FREE.