Susanna Schroadter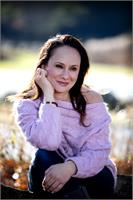 Susie began her career as an attorney, but early on developed an interest in Mediation, where individuals are able to help themselves find solutions to conflict. She quickly found a correlation between conflict resolution, general wellness, and a healthy lifestyle, and soon began her yoga practice. Susie learned Yoga is not simply a means of staying in shape, but a method to decrease stress and increase balance in her everyday life. She has found an internal dedication to bringing this awareness to all individuals.After a deep personal loss Susie has become even more aware of the importance of taken time for one's self, to heal both emotionally and phyiscally and to give of yourself to others. She curremtly lives with her daughter and husband in Newmarket.
Susanna Schroadter instructs the following:
The beginners class is for those who are new to yoga and more experienced practitioners that are looking to deepen their experience with the basics. Basic breathing techniques and poses will be taught in a gentle and welcoming environment.




Classes focus on moving through a progression of postures that offer modifications (basic to advanced) for all levels of strength and flexibility. Some experience with sun salutations, breathing practices, and basic postures is suggested. Students are encouraged to challenge themselves and work to their appropriate level of ability.